Matthew Rosen, BS.Arch, M.Arch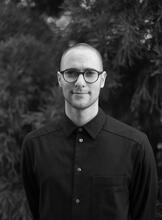 Matthew is an architect and designer. He teaches in the School of Architecture at Yale and serves as the Assistant Director of the Yale Urban Design Workshop.
Independently, Matthew runs a design practice based in New York called Twenty Three Calvin. His work is motivated by an exploration of aesthetics, informed by an elemental approach to methodology, ethics, and subjective experience. Prior to forming Twenty Three Calvin, Matthew practiced at Herzog & de Meuron in Basel, Switzerland. 
Matthew's academic research has focused on tools and techniques used in the process of design. He has worked to better understand how technologies, and the methods those technologies establish, affect design outcomes and designers themselves.  
Widely shown, Matthew's work has been exhibited at the Salone del Mobile Milano, Art Basel Miami, Carpenter Center for the Visual Arts, and Takanaka Gallery in Tokyo. He was selected for the VIP development program at Harvard University's Innovation Lab, shortlisted for the Plimpton-Poorvu Prize in design, and has been awarded the AIA Medal for Academic Excellence.
He holds a Master of Architecture from Harvard University's Graduate School of Design and received a Bachelor of Science in Architecture with Honors from The University at Buffalo. He is a Registered Architect and member of the American Institute of Architects.