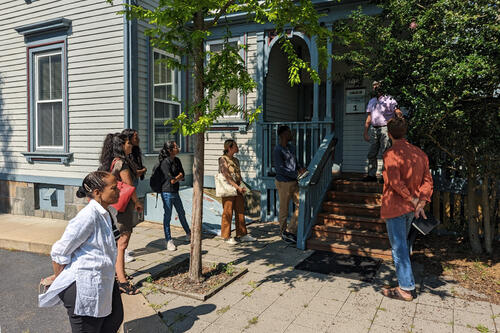 The Fall 2022 course, "Housing Connecticut: Developing Healthy and Sustainable Neighborhoods," was the first interdisciplinary clinical seminar convened by the Yale Urban Design Workshop (UDW), the School of Architecture's community design center, and was offered in collaboration with the Connecticut Department of Housing. Bringing together students and faculty from Yale's School of Architecture, Law School, and School of Management, "Housing Connecticut" allowed students to work directly with nonprofit affordable-housing developers in two of New Haven's most disadvantaged neighborhoods, Newhallville and Fair Haven. The students developed proposals anchored by affordable housing that engaged with community-development issues, including environmental justice, sustainability, resilience, social equity, identity, food scarcity, mobility, and health.
The students worked in multidisciplinary teams and collaboratorated with three nonprofit developers—Neighborworks New Horizons, Neighborhood Housing Services of New Haven, and Beulah Land—to develop detailed development proposals, which included demographic and spatial neighborhood analyses, site selection, conceptual architectural design, pro formas, and proposed financing stacks. 
Additional input and feedback were provided by the Connecticut Department of Housing and the Connecticut Housing and Finance Authority (CHFA), along with substantial predevelopment support so the three projects may move toward realization.