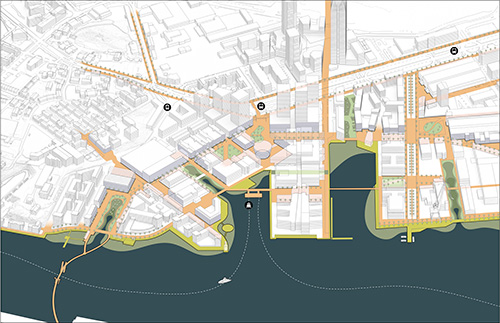 Following a multi-year academic engagement with Gothenburg, Sweden, urban research and design proposals developed by master students and faculty of the Yale School of Architecture will be on display at House of Sweden in Washington, D.C. from February 1-23, 2020 in the exhibition 'Learning from Sweden'. During 2019 the Embassy has focused on a theme called "Smart Societies – Creative & Inclusive" – this exhibition, and a seminar in conjunction of the opening, are the final events in a series of activities around the US. #UrbanChallenges #SmartSocieties
The material on display ranges from detailed analysis and description of Gothenburg's distinctive urban form and architectural typologies, to proposals which address some of the most urgent issues reshaping contemporary cities: climate change, food production, mobility, public health, neo-industrial growth and social equity.
 
The work is part of the ongoing development at the Yale School of Architecture of an Urban Atlas of Gothenburg, a document that can serve as a model for the wider study of other northern European cities that are transitioning from a maritime and industrial economy to the local and global networks of knowledge production and culture associated with contemporary urbanism. The work stands within an evolving Yale School of Architecture tradition of "learning from" less-studied aspects and sites in the built environment, going back to the famous 1972 design studio, "Learning from Las Vegas," conducted by Robert Venturi, Denise Scott-Brown, and Steven Izenour. It reflects a commitment to develop innovative pedagogical approaches that produce new design knowledge and expertise through an initial focus on the specificity of local place and culture, and then to communicate and apply that knowledge on the broadest global scale.
Opening hours:
Saturdays & Sundays 12 pm – 5 pm. 
2900 K Street NW
Washington, DC 20007